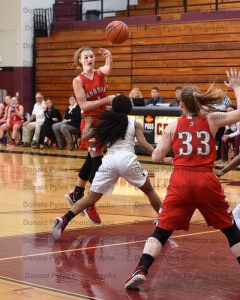 The Martin Luther King Tournament (MLK), which is organized by Galesburg High School, has traditionally provided a great experience for the Morton Lady Potters (25-1).  Traditionally it falls at about the midway point of the high school basketball season, in what has been called the "January Grind".  All veteran players and coaches are familiar with the January Grind, which refers to the 'Dog Days' of the long high school basketball season. Teams are tested for their commitment level, sustained focus, team chemistry, self evaluation and ability to handle any adversity the Grind has to throw at them.
The MLK, which is also sometimes referred to as the "Galesburg MLK Classic", allows teams to see a variety of competitive teams, which bring with them a wide range of style of play in the middle of their season.  There are teams that like to push the pace of play, teams that want to slow you down, teams that run a lot of set plays and teams that prefer to free lance and break down defenses with their athleticism and constant motion.  Being able to play against many different types of teams has always been beneficial to the Potters, as it has helped prepare them well for post season play.
This year, the Lady Potters faced LaSalle Peru, Lincoln, Peoria High (Central), Peoria Notre Dame and Galesburg High School.   Much like the SFHC, each team presented a different challenge and a different style of play.  All five opponents brought toughness and varying levels of experience and competitiveness.  LaSalle Peru was young and less experienced, so they tried to slow down the pace of play on both ends of the court.  Lincoln and Central both had a mixture of youth and veteran players, but had very different styles of play.  Lincoln played quickly on offense and was more patient and sat back defensively.  Central was the exact opposite, playing slower  and patiently on offense and applying high pressure, in your face tough, physical defense. Notre Dame and Galesburg both tried to run their set offenses and play physical defense against the Lady Potters.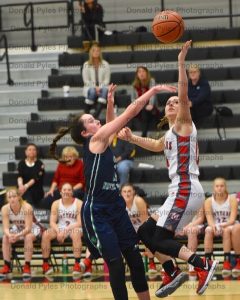 The MLK is rather unique in that games are played over two weekends, typically with one game during the week and is played at a variety of locations.  Morton hosted their first two games on Saturday, January 13th vs LaSalle Peru and Lincoln.  Then travelled to Peoria High on Monday (Martin Luther King Jr. Day) to face the Central Lions.  The Potters then played at Galesburg High School, on Saturday, January 20th vs. Peoria Notre Dame & vs. Galesburg High School.  Because it is a week long tournament, Morton also squeezed in Friday night Mid-Illini Conference games on both Fridays.  The end result was 7 victories for the Lady Potters in 8 days.
Jan 12th (Fri Night) – Morton defeats Metamora 52-43
Jan 13th (Sat Morning) – Morton defeats LaSalle Peru 52-16
Jan 13th (Sat Afternoon) – Morton defeats Lincoln 58-45
Jan 15th (Mon Afternoon) – Morton defeats Peoria High 59-51
Jan 19th (Fri Night) – Morton defeats East Peoria 74-21
Jan 20th (Sat Afternoon) – Morton defeats Notre Dame 56-22
Jan 20th (Saturday Night) – Morton defeats Galesburg 65-46
Are you starting to grasp the January Grind concept? Well the Lady Potters know all about it and prepare for it. It's part of the process of building mental toughness for deep post season runs. Not only do you face 7 teams in 8 days at the MLK tournament, you face 7 different officiating crews. Sometimes the officiating crew has as much impact on the outcome of the game as the style of play of your opponent. Some crews are consistent in their officiating, some aren't. Some allow physical play and hand checking, some don't.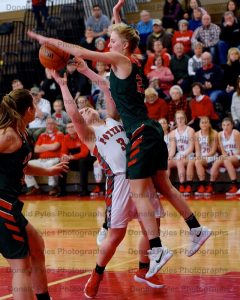 Some call three seconds in the lane, carrying and traveling (according to the rules) and some don't. Good teams learn to adjust the way they play accordingly as the officials set the tone for the style of play they allow. Great teams overcome inconsistent officiating and take the game away from the officials. The Lady Potters saw some very good officiating and some suspect officiating over the course of the Jan Grind, but in all cases they played their game and didn't let the officiating, good or bad, get in the way of winning basketball games in January.
The Lady Potters finished January off with two more big Mid-Illini Conference wins with victories over Dunlap (59-44) on Pink Night at the Potter Dome and then at Pekin on January 27th (77-33). Pink Night 2018 was an extraordinary night.
With the help of the Morton Community, the Lady Potters raised over $6,000 for the Illinois Cancer Care Foundation. 650 Pink Night t-shirts were sold by the team and generous donations from local businesses and individuals accounted for the large sum that was donated. Morton's State Champion Band performed and the Morton Cheerleaders and Dance team, along with over 1,000 fans made it an electric night! Tenley Dowell was also honored, before the game, for scoring her 1,000th point during the MLK tournament.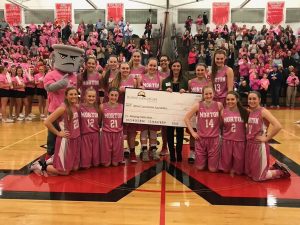 Energized by the crowd, the Lady Potters played a great game on both ends of the court. Curiously enough, Dunlap's coach (Heather Cassidy), elected to press and pressure the Lady Potter reserves the entire 4th quarter with her starters and even called a timeout in the final seconds, but it didn't seem to matter much. The Lady Potters still won the game by 15 in a game that all 14 Morton Lady Potters got significant playing time and experience.
So now with the January Grind behind them, the Lady Potters will look to keep improving day-by-day and attempt to play their best basketball of the year in February and March. All those games in November, December and January are part of the building process. I think the Lady Potters are about ready to make their March into March.