The 2019-20 Morton Lady Potters have passed every test so far through the first 15 games of the season. Winning Championships at the Morton Thanksgiving Tournament & the State Farm Holiday Classic, these Lady Potters have done something that no other Lady Potter team has done in recorded history.  At least that I can find during the Coach Becker era.  That is in being undefeated on January 1st.
As Good as Last Year?
Through this point last year, the Lady Potters were 15-2 and were averaging 61 points per game as a team and allowing 39 points per game.  This year, on January 1st, they are 15-0 and are averaging 65 points per game  and allowing 40 points per game.  So their point differential this year is actually 3 points better than last year, but that doesn't tell the entire story.
The Lady Potters faced some very good teams in the Nov-Dec stretch of both last season and this season.  Some of players I asked said they think last year's schedule may have been a little tougher, playing teams like Kentucky-Ryle, Richwoods 2x, Wisconsin-Monroe and Chicago Simeon last year during the first two months. However, they have played some very good teams this year as well in Chicago Marist, Richwoods, Lincoln-Way West, Sycamore and East St. Louis.  So the strength of schedule is up for debate, but pretty close, if you ask me.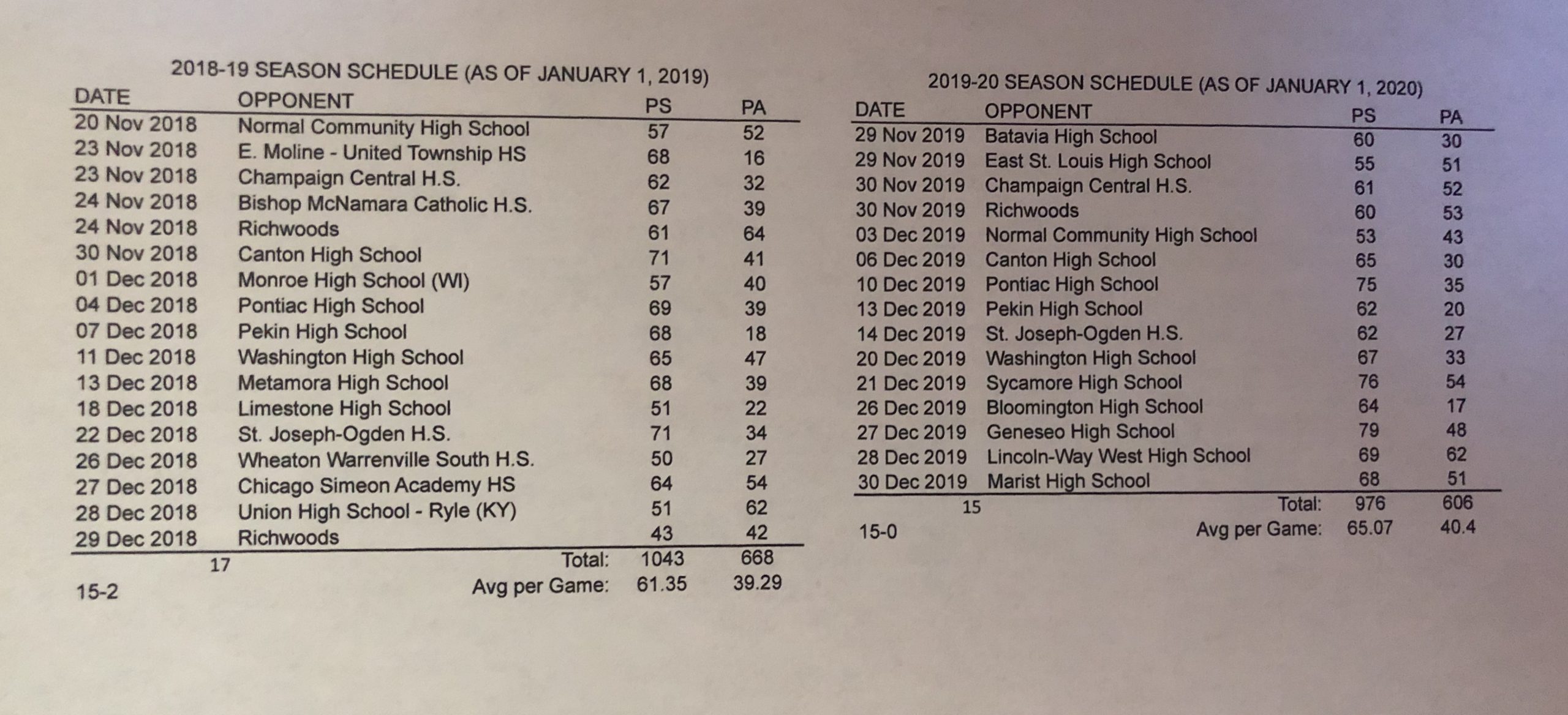 There are a few more differences though, between this year's team and last year's.  This year the Lady Potters are much more balanced in their scoring attack, with 6 different players leading scoring in the first 15 games. All of last year's returning players have accepted new roles and different responsibilities and this Senior laden team is leaning on it's experience to lead the way.
University of Alabama-Birmingham signee, Lindsey Dullard, has been exceptional in every category, and leads the team in rebounding and scoring, but has plenty of help from her teammates and has been more than willing to share the ball and the spot light.  Illinois Central College signee, Courtney Jones has transitioned well to the point guard spot this year for the Potters and has been putting up very good all-around numbers, leading the team in assists and steals and has the second most rebounds on the team through 15 games. Both players are also very smart, defensive minded players that always put the team first. These two Senior Captains have played in every Lady Potter game and practice and since joining the Lady Potters as freshmen.
Senior shooting guards Maddy Becker and Peyton Dearing have been absolutely deadly from the perimeter this year, with the duo averaging 54% (52-96) from the arc.  Dearing, an Illinois State University Soccer signee, has also utilized her speed very well this year on both ends of the court and is playing with great confidence right now.  She has made a major impact this season on the hardwood.  Becker (Captain), a returning starter from last year's State Champion team, that had her season ended last year due to a knee injury in the Sectional Semi-Final vs Canton, is leading the team in made 3's and brings with her a wealth of experience, toughness and basketball smarts.
Sophomore Katie Krupa & Junior Raquel Frakes have been imposing forces in the post, with Katie shooting a team leading 61% from the field and 2nd on the team in points scored.  Katie can dominate in the post and is just scratching the surface of how good she can be for the Potters.  Raquel has been a dynamic rebounder and defender.  Her bounce and athleticism allow the Potters to do things most teams can't.  Raquel leads the team in Offensive rebounds and has a jaw dropping vertical.  Raquel injured her wrist in the Championship Semi-final game vs Lincoln-Way West, when big Brianna Woolridge fell on top of her.  Raquel is likely to miss a couple of weeks of play before returning. Get well soon Raquel!
Other regulars, returning from last year's State Championship team, that have provided valuable minutes for the Lady Potters include Seniors Olivia Remmert (Captain) and Makenna Baughman.  Both players are workhorses that play their roles very well. Whether it's setting the screen that allows their teammate the time to get the shot off, pulling down the big rebound, getting the deflection or tie-up for extra possessions or hitting the big shot themselves.  Olivia and Makenna have been excellent in their roles and maximum effort team players.
By The Numbers
The Lady Potters have been dominant as a team this year and all 16 players have definitely contributed to the success.  Some teams stats of interest through the first 15 games:
494 – Coach Becker has won 494 games as head coach of the Lady Potters
113 – The Class of 2020 has won 113 Varsity games (lost 7)
100% – The Class of 2020 has won 100% of their Mid-Illini Conference games (45-0)
82% – The Lady Potters are shooting 82% as a team from the free throw line (179-217)
51% – The Lady Potters are shooting 51% as a team from the field (346-680)
50 – The Lady Potters have won 50 straight Mid-Illini Conference games in a row
25/23/17/8 – The Lady Potters are averaging 25 Rebounds, 23 Field Goals, 17 Assists, and 8 Steals as a team
15 – The Lady Potters have 15 consecutive Wins to start the season
2 – The Lady Potters have won 2 tournament Championships this season (Morton Thanksgiving Tournament & the State Farm Holiday Classic).
1 – The Lady Potters are ranked #1 in the State by the AP Sportswriters
What the Players Have to Say
I had the opportunity to sit down and ask a few questions from some of the Lady Potters (Frakes, Dearing & Jones) regarding their superstitions/habits & goals.  Let me just say, these three are very superstitious.
Superstitions –
All 3 have to park in the same spot before every game or they have a bad game
Peyton & Raquel have to hum the National Anthem before each game
Courtney needs a white hair tie & fist bump everyone
Raquel has to straighten her hair on game days
Peyton has to make sure she has no nail polish on
There are apparently many more that probably shouldn't be mentioned here
Goals – 
Courtney says going undefeated in the Mid-Illini Conference all 4 years
All three say getting back to Redbird and winning State
Peyton says going undefeated all season
Courtney "1 game at a time!"
Don Pyles Photographs –