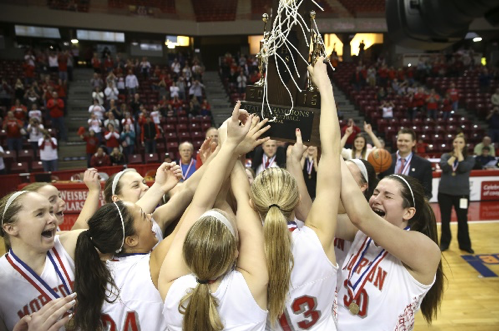 I cannot believe summer is almost here!  I hope you are planning to hoop it up this summer and begin preparing for next season.  Last summer was such a bummer not being allowed to be together, host camps and get in the gym improving as a program.  Our coaching staff is excited about the upcoming summer and season.  We have the potential as we will return multiple starters and those with experience from this season.  Are you dreaming of a Mid-Illini championship or maybe a return to Redbird Arena?  After finishing second in conference and then earning the conference tourney championship we should be hungry for more.  We want you to come back next season a better player and better person.  Everyone on our schedule will be gunning for us still.  We are working to complete a challenging schedule for us next year.  We will again host our Morton Thanksgiving Tournament and are entered in the State Farm Holiday Classic in Bloomington/Normal.  Don't become complacent and settle for last year's successes.  Players are made in the off-season.  Summer offers the chance to develop your game and work on improving your individual skills.  Everyone should shoot and handle the ball everyday.  We must improve our perimeter shooting and overall ball handling and passing skills.  Everyone should commit to some type of strength training to get stronger and build athleticism.  Is Redbird Arena a goal?  Everyone must commit to this if the answer is yes.  The atmosphere in the summer will be relaxed, but we do demand that you play hard at all times, show up to compete, and play with intensity and passion.  Anything less than maximum effort would be a waste of everyone's time.  Remember, someone somewhere is practicing to get better.  Are you?
There are several opportunities for you to play and work on your skills this May and June.  We are planning to have skill development and shooting open gyms Tuesday and Thursday mornings 6:15am-7:30am.  Tuesday nights from 8:30pm-10pm will be geared more for competitive play and scrimmages.  I hoping to have some alumni back to hoop with us these nights as well.  Wednesdays will be ICC summer league nights.  We are trying to determine a team camp to possibly attend preferably the end of June.  We will have two four day camps.  May 24-27 and June 14-17.  Those will be busy days as our returning varsity players and coaches will instruct our future Potters from 9am-11am and then we will follow from 11am-1pm with our own "camp" practices.  We encourage you to make the most of these opportunities.  If we want to beat the best teams on our schedule next winter some sacrifices and time must be spent in the summer.  If next season is truly going to be our season then everyone must make the commitment to get better and take advantage of every opportunity.  Captains need to show leadership this summer and take an active role to make this happen.  Don't wait for someone else to do it for you.
Your payment for camps and league will be due by May 21.  Varsity players should plan on attending all events.  If money is a problem please speak with Coach Becker and something will be worked out.  All of these dates count toward the 20 IHSA contact dates we are allowed.  We should take advantage of these.  If you have questions please call me at 309-642-4432.  I hope to see you hooping it up this summer.
Wednesday ICC league:                                 Wednesdays – June 2, 9, 16, 23, 30
(Varsity candidates)
Potter Shooting/Offensive Skills Camp:         May 24-27
Potter Fundamental Team Camp:                   June 14-17
(All Levels.  $80 total for both weeks.)
Open Gyms                                                     Every Tuesday and Thursday in June 6:15am-7:30am
(All Levels)                                                     Every Tuesday in June 8:30pm-10pm