So here is the deal, the Morton Lady Potters, ranked #1 in Class 3A by the Associated Press (AP), are 19-1 on the season, 8-0 in the Mid-Illini Conference, State Farm Holiday Classic Champions, and of course 3x Defending State Champions that have won 16 games in a row.  Most of them by at least a dozen points.  They have run through the first half of the Mid-Illini Conference season like a hot knife through butter and haven't lost a Mid-Illini game in 722 days (January 22, 2016).  That would equate to 27 straight conference wins. That's pretty impressive, but I heard a critic say the other day – "well Morton is in a weak conference, so they don't have to play anyone".  Morton's dominance probably triggers that thought in people outside the conference, because well, what else are they going to say.  There are some ways to measure how good Morton has been so far this season however, and I'll lay them out for you.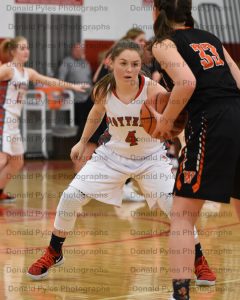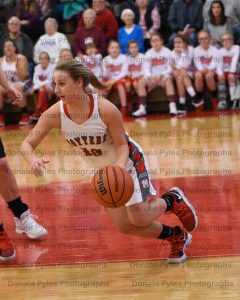 I really can't say how good some of the other Class 3A teams from around the state are, because I haven't seen many of them play this year and other than the AP and MaxPreps, there really isn't another comparison method, other than traveling around the state to watch them all play.  MaxPreps is a national high school ranking service that use a statistical computer formula to rank teams from all across the country (somewhat like the BCS ranking computer formula in college football)  and results are filtered down to provide rankings by State and by Class. Their formula weighs wins and losses and factors in a strength of schedule (who you play, your opponents ranking and your opponents strength of schedule).  Not exactly an exact science, but other than the AP rankings and the "eyeball test", it's the best we got.
So what does MaxPreps have to say about the Morton Lady Potters, the teams around the State and the Mid-Illini?  Well as of their last ranking 1/12/18 (rankings are updated on Tuesdays and Fridays throughout the season), MaxPreps had Morton as the #3 team (regardless of Class) in Illinois and #2 team in Class 3A. Peoria Richwoods at 18-1 (Morton's only loss) is ranked #1 in the State regardless of Class.  Rounding out the top 10 in Class 3A include; #3 – Nazareth Academy 19-1 (unboundaried Chicago private school), #4 – Effingham 14-1, #5 – Charleston 17-1, #6 – Breese Central 17-2, #7 – Glenbard South (Glen Ellyn) 12-1,  #8 – Civic Memorial (Bethalto) 18-1, #9 – Kaneland (Maple Park) 13-2 and #10 Sycamore 16-3.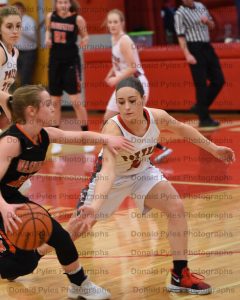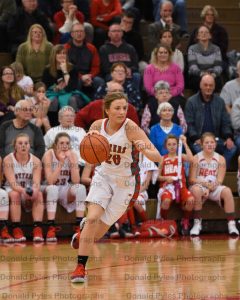 Now here is the part of the MaxPreps rankings that I found most interesting in Class 3A.  Ranked #11 is Dunlap, #12 is Canton, #14 is Lincoln, #17 is Washington, #24 is Metamora. So there are currently 5 Mid-Illini teams ranked in the top 25 in MaxPreps Class 3A rankings.  That does't sound like the Mid-Illini is that weak to me.  Here is how some of the other Lady Potter opponents this year rank in Class 3A: Galesburg #47, Champaign Central #48, LaSalle Peru #88, Limestone #105, East Peoria #125 out of 168 ranked Class 3A teams in Illinois.  Class 4A opponents: Normal Community #6, St. Ignatius #25, Normal West #39, Peoria High #40, Bloomington #52, Pekin #92 out of 169 ranked Class 4A teams in Illinois.
Now I'll repeat, rankings before March 4th mean absolutely diddly-squat.  However, I think that it helps us see that maybe Morton has been tested a little bit and maybe the Mid-Illini Conference is not as "weak" as I heard someone profess the other day. Also, do you remember the Monroe Cheesmakers that battled the Lady Potters back at ICC on December 2nd?  They are currently 13-2 and ranked #3 in Wisconsin's Division 2 AP Poll and have only lost to Wisconsin's #1 team (Beaver Dam) other than their loss to the Potters. Wisconsin has 5 Divisions with Division 1 being the largest schools and Division 5 being the smallest schools. Let's factor that into our eyeball test.
Now that's the good news for Morton's Mid-Illini opponents (they are not that bad).  The bad news for them is that Morton is improving!  Game-by-game and day-by-day the Lady Potters are getting more familiar with the system that IBCA Hall of Fame Coach Becker and his staff are implementing.  They are getting better at the little things that make a big difference.  They are getting better at communicating on offense and defense.  They are getting better at finding the open player and they are getting better at competing.  Just what Lady Potter opponents wanted to hear I'm sure, but it's the truth.  This team was better in December than they were in November and are visibly better in January than they were in December.  That's what my eyeball test is telling me.  Now we want see what they become in February and March!!!!