Schedule
Tue, 1 Dec
Rock Island High School
@ Rock Island High School
7:00 PM
Tue, 8 Dec
Canton High School
@ Alice Ingersol Gymnasium
7:00 PM
Fri, 11 Dec
Pekin High School
@ Morton High School
7:00 PM
Fri, 18 Dec
Metamora High School
@ Morton High School
7:00 PM
Tue, 22 Dec
East Peoria High School
@ East Peoria High School
7:00 PM
Tue, 29 Dec
Limestone High School
@ Morton High School
7:00 PM
Sat, 2 Jan
Peoria High School
@ Peoria High School
2:00 PM
Tue, 5 Jan
Dunlap High School
@ Dunlap High School
7:00 PM
Fri, 8 Jan
Canton High School
@ Morton High School
7:00 PM
Tue, 12 Jan
Pekin High School
@ Pekin High School
7:00 PM
Fri, 15 Jan
Washington High School
@ Morton High School
7:00 PM
Tue, 19 Jan
Metamora High School
@ Metamora High School
7:00 PM
Fri, 22 Jan
East Peoria High School
@ Morton High School
7:00 PM
Tue, 26 Jan
Limestone High School
@ Limestone High School
7:00 PM
Fri, 29 Jan
Dunlap High School
@ Morton High School
7:00 PM
›
‹
Mid-Illini Conference Championships
1979, 1980, 1981, 1982, 1983, 1984, 1985, 1989, 1996, 2005, 2007, 2009, 2011, 2012, 2013, 2015, 2016, 2017, 2018, 2019, 2020
IHSA Regional Championships
1978, 1982, 1983, 1984, 2005, 2006, 2007, 2008, 2010, 2011, 2012, 2013, 2015, 2016, 2017, 2018, 2019, 2020
IHSA Sectional Championships
2007, 2012, 2013, 2015, 2016, 2017, 2019, 2020
IHSA State Finals
2007-4th Place, 2013-4th Place, 2015 State Champions, 2016 State Champions, 2017 State Champions, 2019 State Champions, 2020 State Runner-up
Morton Lady Potters 2019-20 Varsity Team
The Morton Lady Potters finished the 2018-19 Season with a record of 33 wins and 3 losses and captured their 4th IHSA Class 3A State Championship in the last 5 years!!!  That is a pretty hard act to follow, but the 2019-20 Morton Lady Potters put together a historic season that included a school record 37 wins (2nd most in IHSA history) & a return trip to Redbird Arena for the Final 4 & a State Runner-up finish.  The 2019-20 Lady Potters won 6 Championships, along the way to their 37-1 season, including the Morton Thanksgiving Tournament Championship, State Farm Holiday Classic Championship, Mid-Illini Conference Championship, Regional, Sectional & Super-Sectional Championships.
This year's Lady Potter team faced & overcame much adversity throughout the year, in terms of injuries to key players.  Senior Captain & starter, Maddy Becker, was only able to play the first 23 games of the year, as a knee injury ended her season, for the 2nd year in a row.  Maddy is one of the Lady Potters all-time best 3-point shooters & was having an exceptional year before the injury.  The Lady Potters also lost Junior Raquel Frakes to a broken wrist & a knee injury, which limited her to only 20 games during the season.  Coach Becker referred to Frakes as "The best 6th man in the State" & added a whole other level of athleticism to the Potters rotation.  1st team All-State Senior Captain, Lindsey Dullard missed 6 games of the season with concussion & Senior Starter Peyton Dearing also missed a game & played in others with a Kidney Stone problem.  Through each injury though, the Potters stepped up, didn't make excuses & kept finding ways to win through leadership, persistence & a developing Sisterhood.
The Lady Potters will graduate 7 Seniors from this year's team, including All-Conference players Lindsey Dullard (C), Courtney Jones (C), Maddy Becker (C) & Peyon Dearing, as well as prime time reserves Olivia Remmert (C), Makenna Baughman & Abby Steider. Dullard also was selected as 1st Team All-State & will attend the University of Alabama Birmingham on a basketball scholarship next year.  Jones & Dearing were also selected All-State Special Mention & will also be full scholarship players at Illinois Central College (Jones - Basketball) & Illinois State University (Dearing - Soccer).  This Senior Class of 2020 had unprecedented success for the Lady Potter Program, finishing their careers with a record of 135-8, including 2x IHSA State Champions & a Runner-up trophy.   Jones, Dullard, Becker & Remmert had a perfect Conference record (56-0) in their 4 years with the Potters, which had never been done before.
The Potters will return All-Conference & All-State 2nd Team Sophomore starter Katie Krupa next year, as well as Juniors Frakes, Cailyn Cowley, Sedona McCartney, Claire Reiman & Faith Hostetler, Sophomores Maggie Hobson & Paige Griffin & Freshman Gaby Heer.  They will look to carry on the traditions of Sisterhood & Excellence.
Thank you to everyone that came out and supported the team this season!  Your support & encouragement meant more than you can imagine.  As you have proved every year...  Potter Fans are the BEST!!!
Morton Lady Potters Place 5 on Mid-Illini All-Conference Teams
The Morton Lady Potters had 5 players selected for Mid-Illini All-Conference Honors for the 2019-2020 Season.  Seniors Courtney Jones (C), Lindsey Dullard (C), Peyton Dearing, Maddy Becker (C) & Sophomore Katie Krupa all had exceptional seasons for the Lady Potters & dominated the Mid-Illini Conference again this year, finishing the Conference season undefeated (14-0) again this year.  Congratulations Ladies & Well Deserved!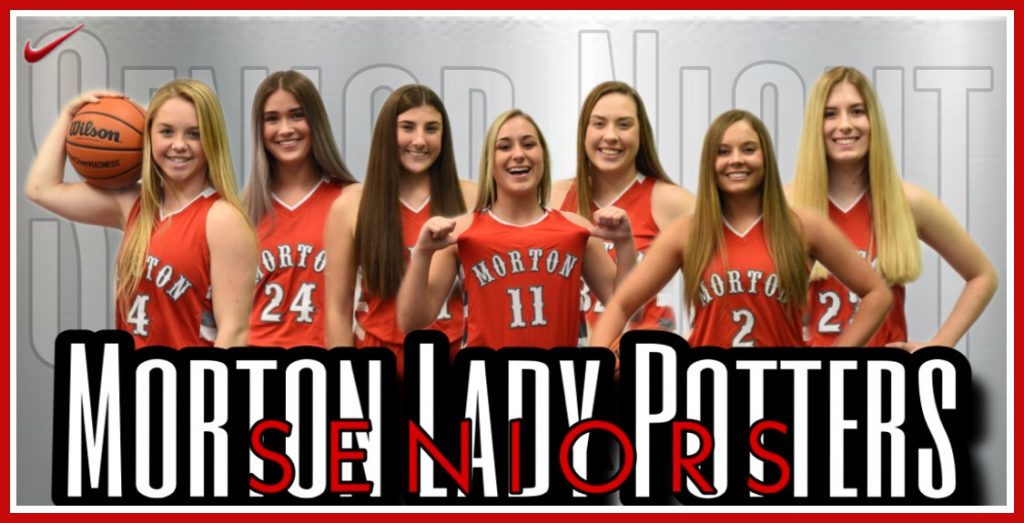 'Mid-Illini Dominance' Morton's Senior Class (2020) has seen unprecedented success this season & in their Morton Lady Potter careers.  They are approaching the 'Pinnacle of Perfection' in terms of Mid-Illini Conference dominance, as they look to go 56-0 in Mid-Illini Conference play over their 4 years at Morton.  Senior Captains & 4-year Varsity veterans, Lindsey […]
Read More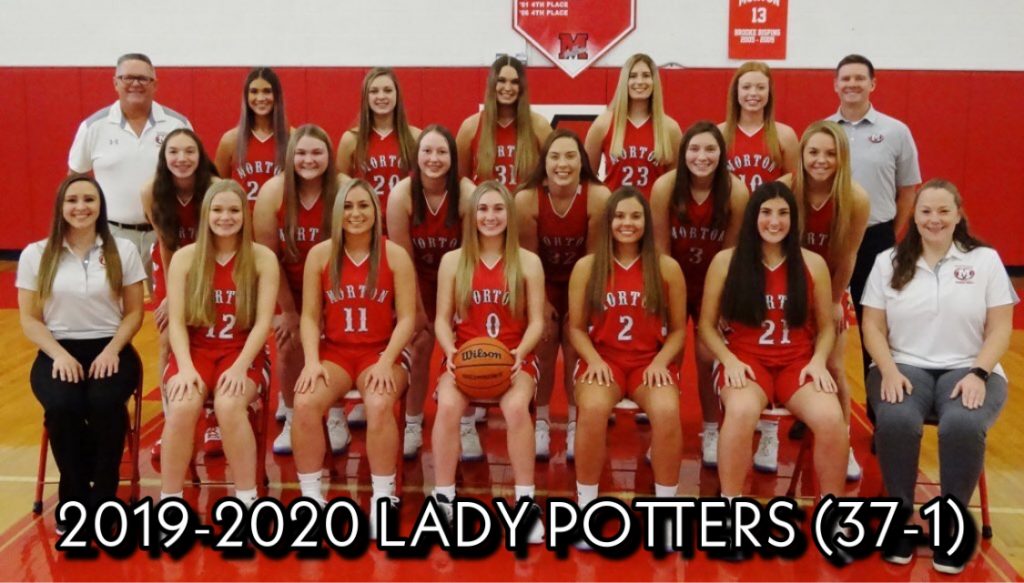 Chicago Simeon 45, Morton's Lady Potters 44 Right now they're crying. It is 2:58 on a Saturday afternoon and their hearts are broken. They have lost the state championship. They lost on a bucket with three seconds to go. Olivia Remmert has draped a towel over her head. She might wish to disappear. Under the […]
Read More
The Morton Lady Potters have an educated eye watching and cheering them on this season!
The renowned sports journalist, Mr. Dave Kindred has only missed a handful of Lady Potters games since he began attended them in 2010. Since moving back to the area after spending the last 45 years traveling the globe in search of yet another sports story, Dave has found comfort in being a "fan". He isn't sure how many times he had to repeat the line "I'm not a fan, I'm a writer" throughout his career. Being a fan can cloud the objectivity of capturing those wonderful sports stories we often read. But now, Dave feels at peace with just enjoying Morton Lady Potters basketball.
Lest you think Kindred's work is a story of the past, think again. He has just finished writing 'The Un4gettables', which is the 4th book to chronicle the Morton Lady Potters' State Championship Seasons.  As director of the National Sports Journalism Center at Indiana University, he recently wrote for a weekly on-line column that has dealt with, among other topics, Twitter. For more information on Dave Kindred, the columns he's written, the books he's published and more, click here.
Hey Lady Potter Fans, Sports Journalist Dave Kindred has done it again!!! 
Dave Kindred has completed his fourth book in the Lady Potter Championship series!  If you have ever read any of Dave's books, articles, blogs or just spoken to the man, you know how his words bring a delightful perspective to any situation he observes.  A seasoned sports writer, that has interviewed some of the all-time greatest icons in sport, Dave has a way of getting to the essence of the moment that makes you smile.  You can now purchase any of his Lady Potter Championship books individually, or as a set by clicking 'Kindred Books' or from the Menu on this site.
Book 4 - The Un4gettables!!! 
Wait no longer Lady Potter fans!  Dave Kindred's newest book is ready to order and it should be a real treat for Potter Fans of all ages.  This 4th book, 'The Un4gettables', takes you through the historical Lady Potters' 2018-19 State Championship season.  Relive the Championship journey of the highest scoring Lady Potter team of all time!  The new book, 'THE UN4GETTABLES', is now available to order through PayPal by using this link...
Books will also be available for purchase at Lady Potter home games for $10 each.