As far as high school basketball games go, those that witnessed the Morton Lady Potters (4-1) play the Richwoods Knights (6-0) Saturday night, saw one of the best games they will ever see.   That may be a big statement, but the Potters and the Knights put on a show in this Double Overtime thriller (64-61 Richwoods) that won't be forgotten anytime soon by those lucky enough to see it.  Pretty much everyone paying attention expected to see Morton & Richwoods meet in the Championship Game of the 10th Annual Morton Thanksgiving Classic and they did not disappoint. I heard veteran sportswriters, sportscasters and coaches call it an "Instant Classic", "Game for the Ages", "Battle Royal", and you know what? All of those descriptions are not hyperbole.  It was as fun to watch as November basketball gets, that's for sure.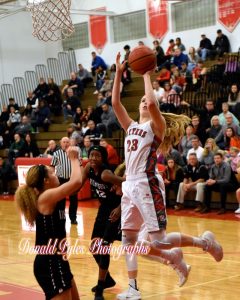 There are some great rivalries in sports and many of our most memorable Champions of all time had a fierce rival.  Lakers/Celtics, Ali/Frazier, Duke/Carolina, Palmer/Nicklaus, Ohio State/Michigan for instance.  Central Illinois High School Basketball officially has their own version of "The Rivalry" with the Potters/Knights rivalry that has emerged over the past two decades and culminated with clashes over the last two seasons.
The two programs have combined for the last 4 IHSA Class 3A State Championships (Potters 2015/2016/2017 & Knights 2018) and have a combined 7 IHSA State Championships.  Morton and Richwoods also account for the last 7 Large School Player-of-the Year winners. 2018 (Cameron Taylor-R), 2017 & 2016 (Brandi Bisping-M), 2015 (Chandler Ryan-M), 2014 (Olivia Elger-R), 2013 (Sarah Livingston-M), 2012 (Maggie Cunningham-R). Morton and Richwoods have established themselves as the top programs in the area now for almost 20 years and possibly the best two programs in the State of Illinois over the last 5 years (including this season).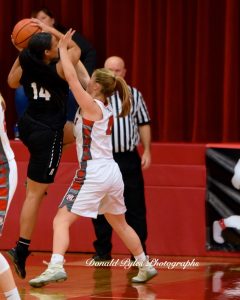 So what else would you expect from these two powerhouse high school programs, but a grind it out, back and forth, double OT cage fight.  Go ahead and tell these players that it is only November.  Pretty sure they would relish the opportunity to go at it with one another any month of the year, day of the week or time of the day.  They are all competitors and getting to watch this level of talent and competitor play each other in a high school setting is a real treat and very unique opportunity for local high school sports fans.
So what did this game and the first week of basketball for the Lady Potters tell us?  I think it confirmed that these Potters are a very good basketball team with some some special talent and the potential to be a great basketball team.  They made good teams look bad in blowout wins over United Township 68-16, Champaign Central 62-32 and Bishop McNamara 67-39. They rallied to beat a very good Class 4A team (Normal Community) in a true road game and they pushed the defending State Champion with 4 returning starters to 2OTs, again rallying from 9 down late in the game, in a game they had a great chance to win, twice.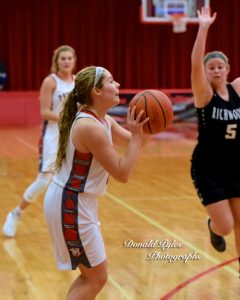 It often takes a team your equal, to really expose what you need to work on the most.  Playing and beating teams by 20-40 points doesn't tell you all that much about yourself.  I think Morton learned from the tough games that they have things to work on and what those things are.  They know they need to play stronger, tougher, attack more often, dig down more defensively and that they need to raise their level of play to another level.  I do not doubt that they will, but they have to put in the work.  They also learned that Richwoods is beatable and maybe learned some things that they can expose the next time they meet.
So what's next for the Lady Potters?  Monday – Thursday will be practice days and then they will host Canton for their first Mid-Illini Conference game of the year.  I expect Canton to be a contender in the MI this year.  Guard heavy team that returns a Senior class of talented players and several high scoring Juniors that can be a very dangerous scoring threats.  They will attack the basket and have a couple very good perimeter shooters.  They are not a very big team in the post, but they are very experienced and scrappy. The Lady Potters will have a week to prepare for this game and then travel to Monroe, WI to take on the Monroe Cheesemakers.  We will have a detailed story on that game later in the week that will break them down, but they are expected to be a very good team with some outstanding next level players.
So hang on Lady Potter Fans.  This fantastic voyage is just getting started!!!