Head Coach Girls Varsity Basketball
Coach Becker became head coach for the Morton Lady Potters girls' basketball program in 1999.  He enters his 23rd season as head coach of the Potters with an overall varsity career record of 530-153 all at Morton . . . Building a culture stressing positive attitudes and strong work ethic the Potters have developed into an area and state perennial power.  Consistent excellence is something Coach Becker strives to achieve.  During the past 17 seasons, the Potters have earned 12 Mid-Illini Conference Championships & last year won the inaugural Mid-Illini Conference Tournament.  They have garnered trophies in their own Morton Thanksgiving Tourney, the prestigious State Farm Classic, and the Galesburg Winter Classic tournaments.  In the post-season the Potters have thrived.  Fourteen of the past sixteen seasons have finished with a regional championship or better.  The Potters won sectional titles eight times and advanced seven times to Redbird Arena earning two IHSA State 4th place finishes (2007 & 2013), one IHSA State Runner-up Finish (2020), and four IHSA State Championships (2015, 2016, 2017 & 2019).  In 2020, prior to last year's COVID-shortened season, the Potters finished with the 2nd most wins in IHSA history (37) finishing 37-1, including a Regional Championship, a Sectional Championship, a Super-Sectional Championship, IHSA Class 3A State Runner-up, as well as Undefeated Champions of the Mid-Illini Conference, State Farm Classic Large School Champions & Morton Thanksgiving Tournament Champions.
This year the Potters will look to return 9 players from last season's State Runner-up campaign.  They are hoping to build a team driven to work hard and improve daily.  The mission, in part, for every Lady Potter team is to respect the Potter traditions and successes of the past yet forge ahead to work and leave their own positive legacy.  Expectations are always high, but this is a maturing group who understands what it takes.
Currently six former Potters will be playing collegiate basketball this season.  Raquel Frakes (Class of 2021) is playing basketball and volleyball at Illinois Central College this year. Lindsey Dullard, Courtney Jones & Peyton Dearing (Class of 2020) will begin their sophomore seasons at University of Alabama-Birmingham and Illinois Central College respectively.  Tenley Dowell (Class of 2019) will be at Butler University, where she will play as a redshirt sophomore.  Megan Gold (Class of 2019) begins her junior year at Lakeland College.
Coach Becker is a member of the Illinois Basketball Coaches Association.  His team's successes have helped earn Coach Becker the I.B.C.A. District 18 Coach of the Year award eleven times.  He was an assistant coach on the victorious AA South squad's staff for the 2003 IBCA all-star game.  In the 2013 IBCA all-star game he served as head coach for the winning Class 3A-4A team. Coach Becker was inducted to the IBCA Hall of Fame in 2018.
Coach Becker graduated from Sycamore High School in 1987.  He earned his bachelor's degree from the University of Illinois in 1992 majoring in Kinesiology with a minor in Spanish.  He earned his Master's degree in Education from Olivet Nazarene University in 2005.  He has taught physical education for 28 years.  Currently, he teaches at Lincoln Elementary School.  Coach and his wife of 28 years, Evelyn, have raised three awesome children, Bobby 24, Josi 22, and Maddy 20.
Coaches Favorites . . .
Movies . . . Most comedies!  Hoosiers, Miracle, Major League, The Sandlot, and Rocky are all pretty good sports movies.
Food . . . Mexican, Pizza, and my Mom's cooking!  Chocolate malts are pretty good, too.
Music . . . Country and 80s.
I enjoy . . . Besides coaching . . . watching my own kids compete, a good poker game, family vacations, golfing, fishing, spending time with family and friends, playing games.
My bucket list includes . . . vacation to Alaska, go to the Olympics (as a fan of course), play Texas Hold 'Em in the main event, take my wife on a second honeymoon, learn to create pottery . . .
A favorite basketball memory . . . Well obviously our State Championships.  What incredible journeys.  Both are unforgettable groups of coaches and kids who accomplished the ultimate goal!  . . . I will never forget the night coaching our 2006-2007 team to a sectional championship in Galesburg in front of @ 2,000 fans and winning in overtime.  It was an electric atmosphere and just an incredible experience.  The state run with our 2012-2013 team was so special with our community and student supporters all along the journey.  The celebration at Pontiac High School after winning the Super Sectional was an awesome feeling.  And there is nothing like experiencing Redbird Arena at the state tournament.  But as I get older a lot of my favorites are the simple day to day interactions with coaches and kids I love!  I've been pretty fortunate and blessed.
As a player . . . My claim to fame in college was playing in front of about 50 fans (including my future wife) in an intramural championship game in the University of Illinois Assembly Hall which holds @ 16,000 people.  In high school I remember my team scoring 90 points on an opponent.  We had a close teammate who had been seriously injured in a car wreck when he lost control on an icy country road.  We all rallied together that night on his behalf.
Coach Becker's Head Coaching Tenure at Morton High School
 Season             Overall       Mid-Illini       Post Season
1999-2000           11-14           6-8 (5th)           0-1
2000-2001           18-10          9-5 (3rd)           1-1
2001-2002           11-16           5-9 (6th)           0-1
2002-2003            9-17            5-9 (5th)           0-1
2003-2004          17-10          10-4 (2nd)          1-1
2004-2005       25-3          13-1 (1st)          2-1  Regional Champs
2005-2006       22-6          12-2 (2nd)       2-1 Regional Champs
2006-2007        31-3          14-0 (1st)         6-2 R, S, SS, Elite 8, 4th AA
2007-2008       18-12          9-5 (3rd)         3-1 R, Sweet 16
2008-2009          21-10            11-3 (1st)           1-1
2009-2010       18-16           8-6 (4th)        4-1 Regional, Sweet 16
2010-2011         27-5           13-1 (1st)          2-1 Regional Champs
2011-2012         31-3           14-0 (1st)          4-1 R, Sectional, Elite 8
2012-2013         30-6          14-0 (1st)          5-2 R, S, SS, 4th Class 3A
2013-2014            26-5             12-2 (2nd)          1-1
2014-2015         33-3          12-2 (1st)           7-0 R, S, SS, STATE CHAMPIONS
2015-2016         33-3           13-1 (1st)          7-0 R, S, SS, STATE CHAMPIONS
2016-2017         34-2           14-0 (1st)          7-0 R, S, SS, STATE CHAMPIONS
2017-2018          31-2            14-0 (1st)         3-1 Regional Champs
2018-2019          33-3            14-0 (1st)        7-0 R, S, SS, STATE CHAMPIONS
2019-2020          37-1            14-0 (1st)        6-1 R, S, SS, STATE RUNNER-UP
2020-2021          14-3            11-3 (2nd)        3-0 Mid-Illini Tournament Champs
21 years    530-153 (.776)  247-61 (.802)  69-19 (.784)
12 Mid-Illini Championships, 14 Regionals, 8 Sectional Titles, 7 Super Sectionals, State 4th Place two times (2007 & 2013), STATE RUNNER-UP (2020), STATE CHAMPIONS four times (2015, 2016,2017 & 2019)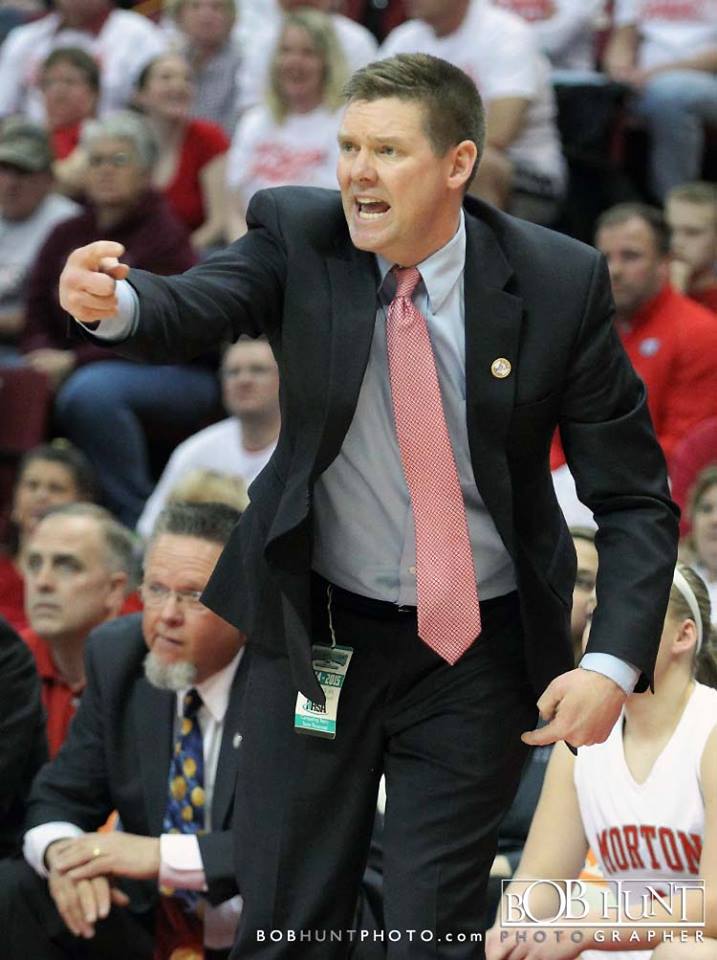 Photo Credit: Bob Hunt (BOBHUNTPHOTO.com)